While I spent the bulk of my day clearing up a company's "technical glitches" on my online pre-order from a month ago (OY!), there's still time to savor in some retail therapy on this National Free Shipping Day!
Need some red-hot heels ASAP? Just get straight to the "point" and click to get the pointy D&Gs above at
yoox.com: Free Express Shipping On All Orders. Promotion applied at checkout. Ends 12/19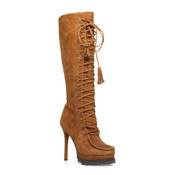 Women's Shoes - ShoeDazzle - over 2" up to 3.5" Boot - Nude/Tan
from:
ShoeDazzle
25% off and Free Shipping on First Orders!