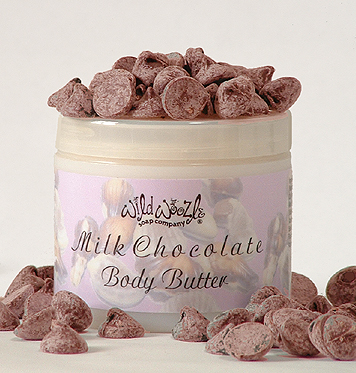 As many of you know,
Wild Woozle
is the tropical spa product company that created pedicure and body scrubs named after Zoe, the main character in my book
How To Stylishly Fall From Grace
. But what you may not know is the vast line of products that they offer for skincare.
Owner Daria Ross shipped me a goody bag of body butters and lotions for review, while aiding me in the onslaught of dry skin. Unpacking the shipment yesterday, my mindset was already on the declining temps that are forcing me in becoming the reluctant wearer of the layered look.
Opening up the box, my eyes went straight to the jar of
Milk Chocolate Body Butter
. Lactose interolance, be damned! If I can't digest it, try to stop me from immersing myself in it. I found the whipped, soufflé-like texture to be quite different from the Bath and Body Works heavy butters, and the scent was light as I applied it to my overly-washed hands. No greased-up look or imprints, which is always a concern for me.
But Daria didn't stop there; small samples of her Cupcake Hemp, Mexican Chocolate Hemp and Tahitian Vanilla Hemp lotions spiked my sensories into overdrive! This is no longer a review; this is a full-throttle seduction. With every whiff from the miniature bottles, I wanted more. (Confession; I added the Tahitian Vanilla Hemp Lotion to my pulse points and was pleasantly surprised by the scent for the rest of the day!)
What sent me over the edge was unscrewing the top off the miniature sample jar of
Nectarine Truffle Body Butter
. Simply put, a habit-forming cocktail of shea butter, mango butter, jojoba oil, evening primrose oil, organic green tea extract, vitamin E, pro-vitamin B5. I have never smelled anything so...
tempting
.
But I digress; after coming down from a confectionery high of scents, I noticed my mood was lighter, calmer,
sweeter
. As the night progressed, I wanted to put the Milk Chocolate Body Butter to the ultimate test. So as I prepared to go to bed, it became the fifth layer of my bedding, as I applied it to my torso right before swaddling beneath my down comforter and cotton blankets.
A funny thing happened to my dream sequence last night; the inhaling of the cocoa butter, coconut oil, vanilla bean extract, vitamin E and botanical extracts made for one holistic, healthy and heavenly resting period. And the amazing part is that no candy wrappers or chocolate crumbs were to be found anywhere...
My analysis? Milk Chocolate Body Butter
does
a body good; I did not have that tight, dry feel I was experiencing from the drugstore lotions and potions. I highly recommend layering your loved ones with tropical spa products from Wild Woozle.